June 2011 – The summer heat is infuriating our Politicians with the invincible formula of blood, sweat, toil, and increased wages. Food-grains meant for BPL (below poverty level) families are still rotting in the government storage barns while farmers are flocking together under the banyan tree of the sarpanch (panchayat-leader) to watch how Baba Ramdev's fast on the small black and white TV. The youth of our country with their indomitable spirits are sitting at home on their couches watching MTV Roadies 8, all the while, tweeting profane words about the ruling UPA government. Here is a comprehensive list of all that is happening right now.
Baba Ramdev takes a break from yoga and tries to do a Anna Hazare stint to gain popularity and support from the youth of the nation. Anna Hazare himself stands in the corner of the shamiyana with a smirk on his face and although he supports the goodwill of Baba Ramdev, he takes pride in the fact that he is still the best man in the fasting business.
A young Indian cricket team convincingly defeats the West Indies on their home soil ODI series by 3-0. The TRP ratings were like Kareena Kapoor's dimensions and the size of the brain of a lemur.
Murder 2 is about to be released and going by the previews, this time it seems like Jacqueline is going to be murdering Imraan Hashmi instead of it being the other way round.. The actor with the reputation of being the serial-kisser looks like a 10th grade school-boy adolescent in front of the bold Jacqueline.
The pioneer of Indian modern art, M.F. Hussain passed away in self-exile. An embarrassed government offered to have his body flown down to India for the last rites but received a much deserved slap on the face by his family as they rejected it.
Jayalalitha scrapped Karunanidhi's Free-TV-Giveaway scheme. It looks like she found out a loophole in the system. She says that for the 1.6 crore TV sets the public paid 4,000 crore as cable connection rent annually. Good job!
Soon you might be able to buy a product and be surprised to find a Made-in-Tihar stamp on it. If you're lucky enough, you might hit a rare jackpot collectible item with the stamp Made-By-Raja or Made-By-Kalmadi. The brand? TJ"S they say. I have a better name for it. Name it SMART (Scammers and Manufacturers of the Affluent and Rich in Tihar).
P.S.: The Xeno slept for 36 hours in support for Baba Ramdev's Crusade Against Corruption.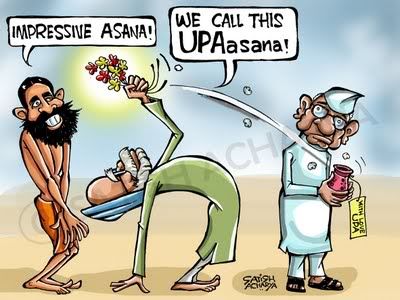 This entry was written on one sullen sleepy morning, and is filed under
Iridescent India
. Follow any responses to this post through
RSS
. You can
leave a response
, or trackback from your own site.